Podcast: Play in new window | Download
On this episode of Ditch The Box we welcome Jeff Fromm, President of FutureCast and author of Millennials with Kids.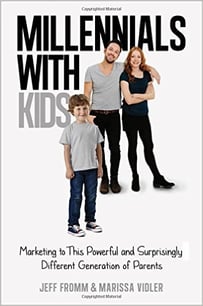 Jeff , the "Millennial Marketing Guy", has over 25 years of marketing experience under his belt. Currently President of FutureCast, a marketing consultancy that specializes in millennial trends, Jeff also finds time to be a contributing writer at Forbes.com. Jeff has experience that ranges from Build-A-Bear to Whole Foods, and beyond.
During the podcast, Jeff offers outstanding insight into the "Millennial Mindset" and the financial impact of millennial influence across all generations. He also discloses why companies may be unwilling or slow to make changes that could benefit them greatly in the long run.
The Millennials Mindset is not just some fad, here today gone tomorrow. It's a real force to be reckoned with. So how do we get these millennials to take action? According to Jeff, 55% of financial impact/performance is related to pricing strategy and on shelf position kinds of factors. The remaining 45% is marketing related factors, six in particular:
1. Social circles
2. Emotional connection to brand
3. Innovation
4. Trust
5. Purpose
6. Access
Jeff says that most successful brands dominate one of these six areas and meet the threshold level in the others.
Consumers use content to help make buying decisions. The goal is to have different content to meet the buyer at each stages of the buyers journey. You want content that meets a consumer before purchase, during purchase, and after purchase. However, Jeff stresses that content needs to focus more on consumer interests. "BRANDS THAT UNDERSTAND THE BASIC PRINCIPLE OF FISHING AWAY FROM THE BOAT ARE GOING TO BE THE BIG WINNERS. Brands that are focused on putting their brand name all over content just how they put their brand name on their packaging and on their ad are probably going to miss."
(Jeff Fromm).