For 95 years, Fannie May has been one of the most prolific producers of confections, using chocolate candies as an integral part of celebrations around the United States. The company, owned by 1-800 Flowers, is made up of three distinct brands that create a trifecta of sweet treats, putting a modern spin on classic candies that have been purchased across the country for gifts, party favors, and personal snacks. Fannie May is no longer making its mark just with brick-and-mortar stores throughout the U.S. – the brand is experiencing its largest growth through ecommerce, and with this comes a whole new set of challenges, demands, and opportunities for exciting new product launches and marketing strategies.
Joining us on this week's episode of "Ditch The Box" is Kevin Coen, President of Fannie May Fine Chocolates and Harry London, who gives us the inside scoop on the company's 95th anniversary celebrations and how it is making customers part of the experience.
Kevin has been highly successful in the retail, wholesale, ecommerce and distribution business with companies such as Lindt Chocolate, Swarovski, and Filene's. He also collaborates on some projects with sister brands Lindt & Sprungli and Crabtree & Evelyn. This has put Kevin in the perfect position to refresh Fannie May's offerings by keenly observing competitors, trends, and consumer behavior and introducing innovative new products and practices that make Fannie May one of the most exciting modern candy manufacturers.
Kevin says the company is always testing new flavor combinations and looks for opportunities to offset its branded business with private-label products. In addition to introducing unique treats, the company also focuses on retooling its packaging to become part of the overall customer experience. Kevin explains there are four key behaviors surrounding consumer need: self-consumption, sharing, everyday gift, and seasonal. Each of these intentions helps drive new products and new product packaging by taking into consideration where these behaviors drive customers to go. This determines the distribution point for certain products, which also influences the product packaging.
The company's special new 95th anniversary new product packaging was built around the sharing and self-consumption consumer behaviors.
The packages put a modern twist on the company's classic branded tins, offering bold new colors and structural designs that stand up on shelves and show off realistic photos and graphics that appear on the outside of the new lightweight containers. Kevin explains the company conducts a lot of research on consumer purchasing decisions and where the brand needs to position itself in the marketplace before they put the candy packaging out on shelves or online.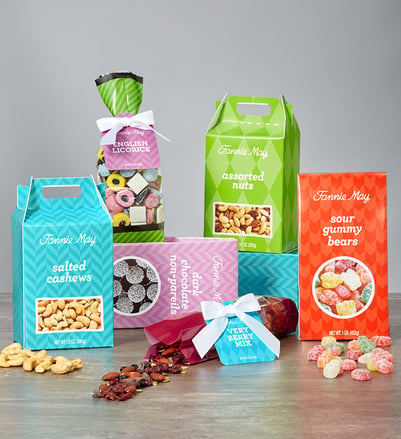 The brand wants to set a market instead of following what the market is doing, but they are highly selective about the times in which they do conduct a design overhaul or rebranding. Kevin says it's all about noticing when and where you can move the brand forward and not pushing the envelope too much because loyal customers will begin questioning your values and identity. People get familiar with the look and feel of a company's product packaging, and brands only have one shot to make a good impression. New product packaging should be able to attract younger customers with different values and purchasing behaviors while still maintaining the integrity of the brand and the product inside.
Kevin explains retailers like Fannie May must be sensitive to what makes their products compelling, whether it's the taste, ingredients, freshness, or a combination of all of the above. They must then make sure the right candy packaging protects it. Consumers should feel like the product came right of the production line, and packaging is a key component in maintaining the stability of any perishable goods. Packaging delicate candies offers a more limited set of options because the product must be highly protected from damage or outside contaminants. If the product doesn't look or taste like the brand promises it does, you'll lose consumers' trust.
A product's quality is sacred to a brand – it's their equity, and they should never compromise on ingredients or presentation.
So many companies today try to make up stories to make noise in the marketplace, Kevin explains, but Fannie May doesn't have to. The brand has a legacy of understanding whom they are talking to, selling to, and what channels consumers are making decisions from. Not losing the essence of what the classic brand is all about is important. Fannie May is embarking upon exciting social media and in-store marketing experiences to include customers in its 95th-anniversary celebration, and there's no doubt its new product packaging has aided in the festivities and is drawing in customers to the company's delicious confections.