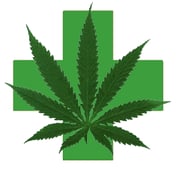 Despite being legalized across nearly half of the country, marijuana still remains a controversial topic in the U.S. Like it or not, the cannabis industry is booming, and misconceptions about the substance are easing up as new forms of education and technology take off.
Marijuana is a big business, and many Americans are cashing in. New forms of agricultural practices are giving home growing a boost, and larger companies are beginning to achieve sustainable growth as cannabis packaging, edibles, and new forms of dispensing the product are on the rise.
On today's episode of Ditch The Box, host David Marinac sits down with George Campbell from American Green, a technology company in the medical cannabis industry. The business partners with licensed retail medical marijuana dispensaries across the nation to develop retail, brand, and commercial cultivating solutions.
In 2009, American Green became the first publicly traded medical marijuana dispensary brand in the world. Campbell shares insights on the latest trends in the cannabis industry and how new products are revolutionizing not only this particular market, but also how retail and agriculture are conducted across the nation.
One of the most interesting solutions the company has created is ZaZZZ, the world's first consumer-operated marijuana vending machine.

Campbell uses techniques like cold calls, emails, and trade show appearances to open up conversations with casinos, sports arenas, and other entertainment venues where a vending machine of this nature could fit in nicely to provide products quickly to patrons.
Campbell and his company also utilize innovative marketing techniques like online video and a web zine to connect with consumers and educate them about the booming cannabis industry and related technologies. Creating new relationships for new products is key – from Main Street to Wall Street, moving these goods and keeping partnerships are built on trust. Campbell says your business can go anywhere if you use your knowledge and expertise to teach, instruct, and inform people.
Many companies and consumers can benefit from the concepts American Green is developing, and these new technologies go beyond just the marijuana industry. LED lighting, for example, is an excellent solution for home growers, but it can be taken far into the agricultural realm to help a whole new segment of people produce the very best products possible.
When a company is involved in a controversial field, mitigating concern is essential. Getting out there and talking to people face to face and using new technology to inform and delight the public can do this. Companies that provide their own new forms of technology can really go anywhere – the key is using foolproof marketing and sales techniques to ease fears, change perceptions, and get people excited about your product or service.