Most consumers can agree that one of the worst parts about adopting a healthier lifestyle is giving up those sugary treats the sweet tooth begs for.
Fortunately, candy companies are developing new product offerings for calorie-conscious customers. Instead of depriving themselves of their favorite chocolate confections, shoppers can purchase miniature versions of popular candy bars containing fewer calories, sugar, and grams of fat.
Mars, a leading manufacturer of confectioneries and other food products, has introduced new, smaller versions of its popular candy bars in stand up pouches. These new Mars Mix and Twix Mix varieties take the classic rectangular chocolate bar shape and scale it down to small, spherical orbs that can be easily consumed on the go. In fact, Mars has even invested $109 million into its Veghel factory to increase the number of these mini chocolate offerings. Right now, 25 to 30 percent of Mars' products fall into the mini category, and the company predicts the volume will raise four or five perfect in the next few years.
As this pint-size product really begins to take off, Mars had to decide on a flexible retail packaging option that would keep its mini candies fresh and function well with customers' active, on-the-go lifestyles.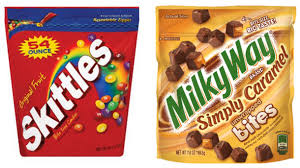 (Image Source: confectionerynews.com)
These particular "mix" candy products are not individually wrapped, so it's important that the packaging keep the products free from outside contaminants. Stand up pouches are the perfect solution, with layers of protective film that give the chocolate confections a longer shelf life and look great against other candy varieties on retail shelves.
More brands, like Oreo and Chips Ahoy! – produced by Cadbury and Nabisco, respectively – are available in 100-calorie packs for dieting and health-conscious consumers. Oreo has even launched a new version of its cookie, Oreo Thins, to cater to adults who may be looking for "a more sophisticated" version of the treat. Whether brands are serving consumers concerned about their sugar and caloric intake, or those looking for a more "grown up" variety of their favorite sweet treats, choosing high-quality flexible retail packaging will give these products the fresh presentation they deserve.
Stand up pouches are a great solution for mini candies and sweets to prevent products from quickly going stale.
Zip locks on this type of flexible retail packaging are easy to use – by both kids and adults – so the packet can be easily closed and freshness can be locked in. Flexible retail packaging for candy is a much better alternative to traditional glass candy jars that are breakable and take up a lot of space on shelves.
Mini candy offerings should be packaged in a container that reflects the product, and small, pliable pouches are great for keeping overall brand image consistent. Consumers today have a tremendous amount of options at their fingertips, and brands need to make sure they stand out from the crowd. Take a page from Mars' playbook and choose stand up pouches for your new product offerings to reach today's active, sophisticated consumer.