As one of the largest producers of cereal and convenience foods, Kellogg's has become a staple in many kitchen pantries across the globe.
Because of its widespread appeal, the brand is in a perfect position to roll out and popularize a new product once absent from many homes.
Kellogg's plans to debut several new food items in the U.S. and U.K. after conducting research about snacking habits and food choices across several different demographics.
The brand is wisely choosing stand up pouches and other forms of flexible retail packaging to successfully communicate its new products to shoppers as they scan the supermarket shelves.
Kellogg's will launch a muesli version of its All-Bran cereal in the United Kingdom, along with porridge versions of its many other popular cereals like Special K and Coco Pops. The company looks to reach a few different consumer bases with these products, including older children, as well as men and women aged 17 to 44 years old. By using its already beloved products as the inspiration behind these new breakfast offerings, the brand could very well expand the popularity of muesli and porridge to a whole new set of customers.
Interestingly, the company aims to target young men that haven't traditionally been big consumers of porridge, according to Kellogg's commercial marketing director Jane Ghosh. So, what can a brand do to convince consumers they have to try a new product they previously had no real interest in? The key is delving deeply into what these consumers really want, and using your food packaging as the essential way to communicate your brand message. Designing your stand up pouches and bags in a way that it is easily recognizable and identifiable with the company shoppers know and love is crucial.
Consumer research can help with both the development of a product and the overall design and structure of your retail packaging. In its "Flexible Packaging Playbook,"
Packaging World outlines several best practices to consider when conducting consumer research. Observing customers interacting with a prototype or sample of your product and its packaging is one example that can offer insight that focus groups and surveys cannot.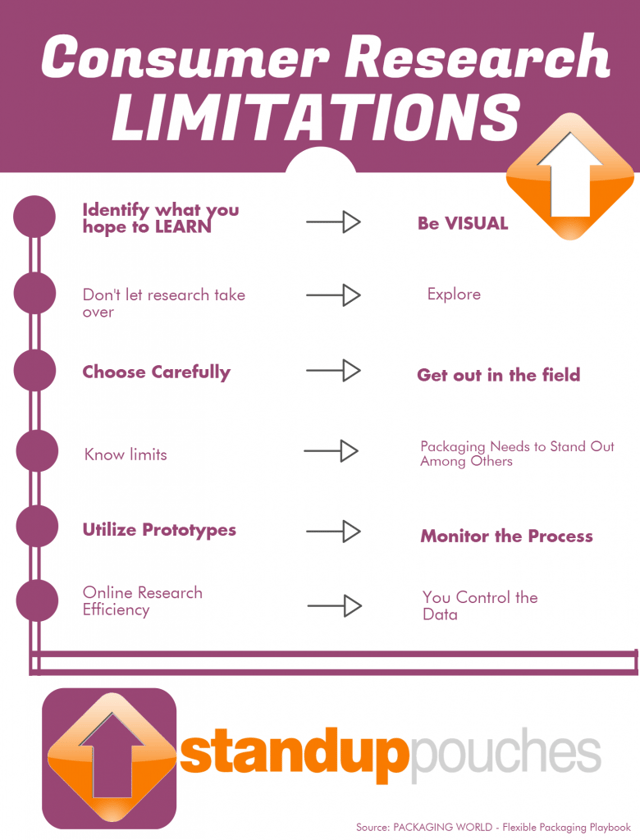 It's human nature to reject the unfamiliar, so factoring intuition and instinct into your test audience's reaction is important. It's not all about numbers and briefs — asking open-ended questions and observing them in their homes will help you better understand their purchasing motivations and overall experiences with your brand and products.
Kellogg's recently looked at some of the biggest trends in food and retail packaging as it plans to roll out more than 40 new products in the United States.
The company's research shows consumers are looking for simple, recognizable ingredients in their food, and many tend to eat on the go. Kellogg's solution to this is offering "portable nutrition" products, launching breakfast biscuits, new cereal bars, and granola varieties packaged in easily transportable stand up pouches. The company will also focus on new developments in its snack food products like cookies and Cheez-its. Showing consumers you understand their preferences and desires starts with new product offerings, which can then be communicated through their packaging.
Transparency is key when conducting any kind of consumer research, as it allows stakeholders to track progress and gives everyone involved tools to participate in the process. Defining the roles not only of participants, but also of your retail packaging, can help you better understand how consumers perceive your product and brand.
Brand experiences are mostly visual, and your packaging has the ability to reflect your company's objectives, cultures, and values. Kellogg's wisely chose to produce food items that appeal to healthier, mobile lifestyles, and this message is clearly communicated through the flexible, durable, environmentally friendly packaging enveloping those products.
Paying close attention to consumer trends in both the product development and packaging design stages will help you deliver a better experience to customers overall. Who knows – muesli and porridge might see a renaissance and rebirth, similar to bacon or kale, thanks to Kellogg's careful research and packaging choices. Will your innovative new product be next?