Podcast: Play in new window | Download
To truly "wow" today's customers, companies must think far beyond simply delivering a superior product and providing decent customer service.
Embedding a total brand experience into the entire culture and delivery of a good or service will set today's organizations apart in a highly competitive, crowded marketplace. To help brands achieve this goal, fulfillment services are becoming increasingly popular. Most customers are unaware that the brands they do business with are working with these "invisible partners," which, in actuality, means they are operating correctly. Companies like USA Fulfillment offer behind-the-scenes, high-touch services to their clients, serving as a third-party supply chain solutions provider that helps producers build loyalty and turn their customers into loyal brand advocates.
On this week's episode of Ditch The Box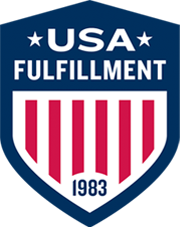 , host David Marinac talks with Linda Dickinson, director of sales and marketing at USA Fulfillment, about successful ways businesses can work with a fulfillment services provider to manage their supply chain and generate positive experiences every step of the way.
Dickinson says her company is 100 percent employee owned, and brand loyalty is embedded in each team member's DNA. The difference between a fulfillment company and a contract manufacturer is that fulfillment involves one segment of the supply chain – the very last part – and offers kitting, packaging, logistics, and warehousing for clients. These companies will store a client's product and literature then pick, pack, and ship it once a customer places an order. They are totally invisible to clients' customers and achieve this by keeping their clients' branding consistent and fully integrating with their shopping carts and software.
Fulfillment services help brands get ahead by learning as much about their clients as possible and putting themselves in their customers' shoes. They evaluate each client's website, 800 number, level of correspondence, and experience placing an order and unboxing a product. They then will develop a formal presentation, which Dickinson's company calls a "Customer Service Evaluation," to review their thoughts and opinions about each of these areas and what their clients can do better. They then gather feedback from their clients' customers and turn their overall customer experience into positive occurrences that build brand loyalty and loyal brand advocates.
Many companies start out doing the fulfillment work themselves, but as they grow, this process can become burdensome and time consuming.
As the day-to-day operations and other aspects of the business become more prevalent, it's important for companies to partner with a fulfillment services provider that will nurture customers and provide the space and manpower necessary to interact with consumers and get products in their hands efficiently. USA Fulfillment uses high-touch service to produce the highest service levels in the industry. To do so, they commit to regularly monitoring and tracking their performance levels, including even smaller tasks like speed of answer, QC barcode scanning for order accuracy, and timeliness of order processing and deliveries.
Partnering with a fulfillment service will help companies manage their supply chain most effectively and build strong customer relationships as they grow and expand their product offerings. Customer experience must remain a priority during each step of the ordering process, and this responsibility shouldn't fall into the hands of just one department in an organization. Fulfillment services help get goods to shoppers quickly and effectively while tackling any issues or answering questions carefully, accurately, and in such a way that helps the parent company form strong, lasting relationships with their customer base.
Dickinson says establishing that "wow" experience from the time a customer places an order, to when they unbox it, is key, but taking it to the next level and building upon the first impression of the brand and product will set companies apart and build brand loyalty.