Podcast: Play in new window | Download
FAT. It's the other dirty "F word" most consumers try to avoid at all costs.
Most would agree a large number of people are "fat phobic," adopting the general belief that if you consume a lot of fat, you will become fat. The reality is, healthy fats are an essential part of a well-balanced diet, and they should not be viewed as the enemy. Health-conscious consumers have become increasingly privy to this, cutting out carbs and upping their protein intake, but still, the average eater is not consuming enough healthy fat to curb hunger and increase energy.
To some, carbs may seem like a quick fix for insatiable cravings, but those are what turn into sugars, which leads to excess weight. Too much protein, too, turns into carbohydrates, which starts the process all over again. Eating vitamin and nutrient rich fruits and veggies are important, but including healthy fats – like nuts and oils – into a well-rounded diet can make a huge difference.
These are the points Russ Taylor, co-founder of FBomb, explains on this week's episode of Ditch The Box.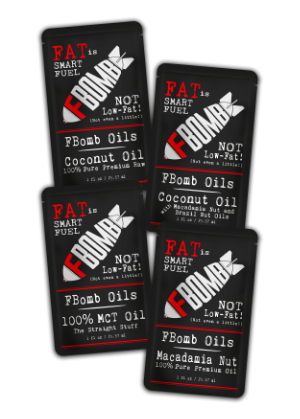 A client of StandUpPouches.net, Taylor's business is based around the concept that consuming healthy fats is such an important part of our diets that they must be easily accessible to busy, on-the-go consumers. FBomb products allow people to get their fill of healthy fats wherever their day takes them as they are packaged in portable, flexible pouches that are durable, lightweight, and puncture resistant.
The company's co-founders come from colorful backgrounds, one a former police officer, the other worked previously on a commercial fishing boat, and they sought out a product they could use themselves in a market with a glaring lack of healthy fat options. The company adopted the FBomb brand name to attract attention and stat the conversation, and they needed to find the right package that would deliver their message and make it easy for people to include healthy fats in their daily diets.
Taylor says the company recently launched four blends of fatty oils – including raw organic coconut oil, macadamia nut oil, and a "house blend" of coconut, macadamia, and brazil nut oils. The last packaged healthy fat is MCT oil, which Taylor explains has a smaller market, as it is sometimes prescribed to patients and consumed by athletes. He says no one has individually packaged MCT oil in easy-to-open flexible pouches, which is why the company has quickly become so innovative and revolutionary.
FBomb initially considered outsourcing a contract packaging supplier, but in an effort to keep all production in house, partnered with StandUpPouches.net to design and ship bold, flexible pouches that keep the oils well protected from outside elements.
Taylor even released a Periscope video highlighting the durability of the product in this unique form of flexible pouches. He says the company's online presence is growing, and it's all in an effort to maintain a consistent brand image and drive the healthy fats message home.
FBomb is all about the "back to basics," real food approach. Each product is made with natural ingredients from the earth, and they aren't fad diet foods that will quickly go out of style. The company currently sells its products online to control its rapid growth but looks to launch these fresh and inventive products in retail locations soon. Taylor gives a sneak peek into his new concept for a coffee beverage made with healthy fats, which he says will be packaged in a flexible container rather than a bulky can or bottle. The portability and ease of FBomb's products could revolutionize American diets and help change the entire perception of fat from a dirty word to an important part of our overall health.