In Episode 3 David Marinac discusses how companies can maximize their profits that have been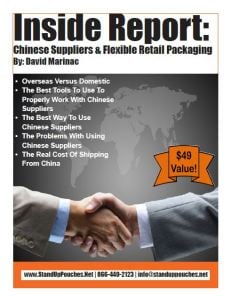 squeezed by the major retailers. When it comes to making and saving money, David suggests that companies should go overseas for their packaging. Julie, the 'all-american' is uneasy about this suggestion and does not understand why we would give our business to China when we need a boost in our economy right here in the USA. The reality of this situation is that it is cheaper to go overseas and at the end of the day cost and quality are the most important aspects of making a profit in any business.
In conjunction with this episode, we've created an extensive inside report about dealing with flexible packaging suppliers in China. Learn the do's and don'ts when dealing with Chinese suppliers in this exclusive report. Just fill out the form below and we'll email your inside report right away.